[第二弾: 留学生と英語で触れ合い、英語運営能力と国際感覚を身に着けよう!
INTERNATIONAL DISCUSSION WORKSHOPS: SIGN UP TODAY!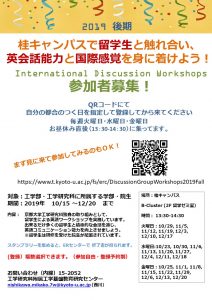 Dear students,
We are excited to announce that the online registration for the International Discussion Workshops is now open. (click here) 令和元年_後期_International Discussion Workshops参加者募集案内 
The discussion workshops are facilitated by international students here at the Graduate School of Engineering who are certified by the British Council.
The purpose of the workshop will allow students to improve English communication skills outside of the traditional confines of the classrooms by freely discussing daily topics with international students.
Such an exchange with international students will help raise cultural awareness and gain global competence.
It's free and anyone can join! Sign up today!
京都大学工学研究科独自の取り組みとして、
留学生による英語ワークショップを実施しています。
(無料・参加自由)
出来るだけ多くの留学生と積極的な会話を通じ、
英語コミュニケーション能力を向上させましょう。
※留学生は研修を受けた院生が配置されています。
スタンプラリーを集めると、ERセンターで 修了書が得られます。
Link:
https://www.t.kyoto-u.ac.jp/fs/erc/DiscussionGroupWorkshops2019Fall
The topics can be found here (link).
Venue: Seminar Room (2F, B-Cluster)
Time: 13:30-14:30
Dates:
October 29 (Tuesday)
November 5 (Tuesday)
November 12 (Tuesday)
November 19 (Tuesday)
December 3 (Tuesday)
December 10 (Tuesday)
December 17 (Tuesday)
October 23 (Wednesday)
October 30 (Wednesday)
November 6 (Wednesday)
November 13 (Wednesday)
November 20 (Wednesday)
November 27 (Wednesday)
December 4 (Wednesday)
December 11 (Wednesday)
December 18 (Wednesday)
October 25 (Friday)
November 1 (Friday)
November 8 (Friday)
November 15 (Friday)
November 22 (Friday)
November 29 (Friday)
December 6 (Friday)
December 13 (Friday)
December 20 (Friday)